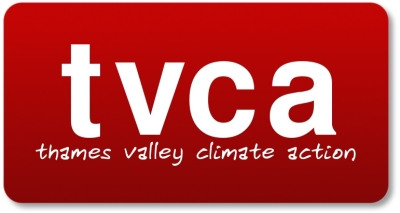 Crabgrass

Crabgrass is a web based resource that groups can use to help organise themselves and have discussions.
Watch a video tutorial


TVCA has a Crabgrass group that we use to share information, work collaboratively, have online discussions, and several other things. Crabgrass is not a substitute for meeting up and talking face to face or using the email list - it's in addition to these.
Crabgrass has been developed by the riseup collective. They have a pretty good site that explains what Crabgrass is.
This page will talk you through the basics of getting onto Crabgrass and join the TVCA group. If you're already familiar with Crabgrass and have an account you might want to go straight to the TVCA group.
Security & privacy
Before you dive head first into Crabgrass (which we hope you will do), it's worth noting a couple of things about your online security and privacy.
Crabgrass is not secure. This means that anybody can see what you put onto a Crabgrass page. Don't put anything on there that you wouldn't want presented against you in court (if it ever came to that). If you want to organise something secret (such as a surprise birthday party), Crabgrass is not the place to do it.
You will need to have a login name and a display name. You do not have to use your real name.
Even if you don't use your real name, information that you put on Crabgrass may be traced back to your computer. You need to use separate software for genuinely anonymous internet browsing (such as the torbutton extension for Firefox).
Getting a user account
You will need to have a user account before you can access Crabgrass. If you don't already have an account, you can get one here (you might want to open this link in a new tab so you can refer back to this page.).
Your login name has to be unique. Don't worry if you end up being chris2314 - you can change your display name in the next step. You will have to remeber your login name. You won't be able to login without it! Unlike passwords, your login name doesn't have to be secure, so don't worry about writing it down somewhere.
Changing your account settings
Once you've got an account, you'll be taken straight to your profile page. It's a good idea to have a look at you account settings before you go further. Click on the account link in the top right hand corner. From here you can …
Upload an image. It's a good idea to do this so that people can recognise you online very easily. It doesn't have to be a photo of you.
Change your display name. This doesn't have to be your real name.
Set location details
There are two other tabs on this page: Public Profile and Private Profile. These are basically privacy settings - set them up to suit yourself.
Joining the TVCA Crabgrass group
You can use the find groups link to find the TVCA group, but it's probably easiest to copy the group location straight into your browser. The group's location is https://we.riseup.net/oxford-cca.
You should now be on the TVCA home page. To join the group, just click the Join Group link at the bottom of the group description. You should now see the TVCA page as a member - something like this (see why we recommended having an image - who are all those grey smiley faces?) …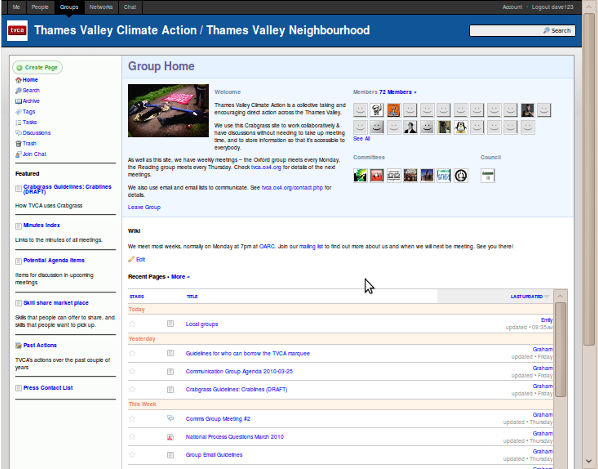 Starting to use the TVCA group
There are a few ways of finding information on Crabgrass:
Recent pages (bottom half of the main page section): This shows the pages that have most recently been created or edited. Click on the title link to view the information.
Committees (under members in the top right of the main page section): These are topics that we have used to order information. Hover over the committee to see what it is, and click it to enter.
Featured (bottom of the left hand panel): Pages that have been 'promoted' so they are easy to find.
Tags (in the menu at the top of the left hand panel): Browse articles by phrases that people have used to describe them.
Discussions (in the menu at the top of the left hand panel): View the discussions only.
Search (top right of the page): Does what it says on the tin!
This is a very basic introduction. It doesn't, for example, tell you how to edit pages or add to discussions. We're hoping to make some videos of how to use Crabgrass soon. Watch this space. In the meantime, we encourage you to have a go - you won't break anything, and if you make mistakes you can always re-edit pages or revert to previous versions of the page. If you get really stuck, get in touch with us.